Experience Jesus' last night before his death through a taste of His last Passover meal.
The Passover Experience
The Passover Experience is an interactive presentation that takes participants through Jesus' last Passover meal*, otherwise known as The Last Supper. To really appreciate Easter you have to learn about the Passover, and that's what the Passover Experience is all about.
*This experience includes a small tasting of key elements, dinner is not provided.
You're Invited
Date/Time: Wednesday, April 13th from 7:00pm to 8:00pm.
Location: Water of Life Community Church: Fontana Campus in the Multipurpose Venue.
Children: The Passover Experience is suitable for ages 10 and up. No childcare will be provided for this event.
Registration: This event is FREE but registration is required to attend.
Update: This event has now reached full capacity.
What is Passover?
Passover is the story of the Jewish people's freedom from bondage when Moses led them out of slavery in Egypt. Passover is remembered through a special service called a Seder where certain food items are tasted; each item is rich in meaning and significance.
How is this significant today?
The Passover Jesus shared with his disciples at the Last Supper marked the end of blood sacrifice. He paid the ultimate price when he died. As the son of God, He came to deliver us not only from the slavery of Pharaoh, but from our own sin so that death will pass us over. Jesus is the sacrificial lamb, the blood on the doorposts of our hearts and by his death and resurrection we are marked free, forgiven and called one of His own.
Details about The Encounter: A Journey to the Cross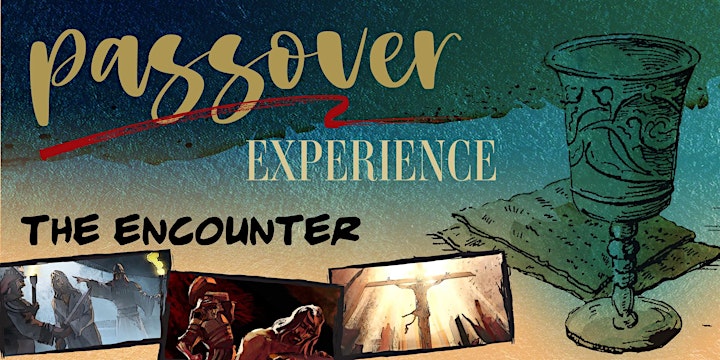 Additional Add-on Experience
The Encounter: A Journey to the Cross, is an interactive, audio and visual experience designed to help you step into and encounter scripture and some of the events leading to the crucifixion of Jesus. In a whole new way, the Word and the Gospel will come alive! Discover and encounter the reality that these are not just words on a page but that they are alive and powerful.
The Encounter experience will be available exclusively on Wednesday, April 13th for Passover Experience guests with walk thru times available before and after the Passover Experience. See available times in the "Add-on" section when registering for your tickets.